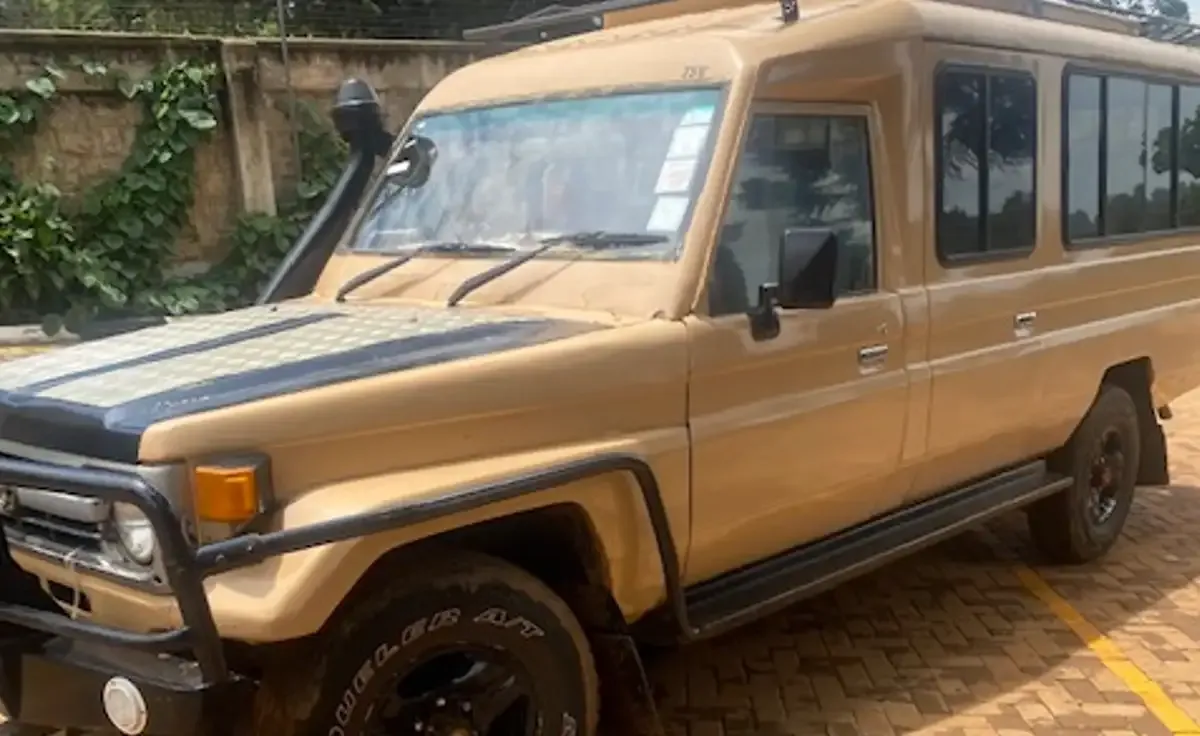 Kenya Journal August 2022 Edition 12
MOUNT ELGON – The joy is in the journey.
Tuesday, August 30, 2022—Kitale, Kenya
I always look forward to climbing into the LandCruiser. It is a beast!
I come from the r"edneck tribe." I have seldom seen a muddy road or hillside that did not beckon me to come give a try. Monday we made our way to Mt. Elgon. It is definitely 4-wheel drive territory. I couldn't wait to leave the tarmac road so we could lock in the hubs. But, that was not to be.
We were still in Kitale gathering supplies for the conference lunch when I noticed smoke coming from under the hood of the LandCruiser.
A quick inspection brought the diagnosis of starter wiring issues.
God has built an amazing network of helpers through Richard and Hellen's ministry days here in Kitale. It goes beyond the fact that he and the ministry are great for the local economy. There is a deep respect for what God is doing through this couple. I doubt seriously a problem could arise for us in Kitale that could not be solved with a phone call.
The call was placed, and in a matter of minutes a mechanic, dressed in his red Total Petrol jumpsuit appeared. He wasn't under the hood more than a few minutes before he reappeared with the faulty
starter.
The good news, he could fix it. The bad news, not in time for us to make our meeting.
The conference room at Mt. Elgon would be packed today with pastors and leaders. Some started walking before sunrise to attend this two day training conference.
The words of my late friend, Phil Newberry echoed in my mind: "If you're on time, you're late, if your early, you are on time." Phil never made it to Kenya with me. Nor did his philosophy of punctuality. Richard's ministry does the best job in Kenya of operating on "American time." But, it is rare to actually
kick off a meeting on schedule.
We began gathering our backpacks and crammed into Richard's tiny Rav4. It is 2-wheel drive. We can get close to the conference center, but we can't make it all the way. Time to test the new heart stints as we might have to walk the last 1/2 mile or so. The conference center sits at 6,550 feet. The air gets a little thin for an old guy.
This is not a new experience. I have lost count of the times we have had vehicle failures, got stuck on muddy roads, or had to finish our journey by foot. It is just part of mission work in the bush in Kenya. I surprised myself this morning, though. I normally don't do well (mentally) with a crisis that makes people wait on me. Today, there was a calm that was unusually settling.
The Rav4 is much quicker than the Cruiser. We covered the paved part of the journey in record time. But, once we turned onto the dirt/mud road, we knew we weren't going far.
At the bottom of the hill Richard pulled into a neighbor's plot. He and his family came out and greeted us with big smiles. He owns the only parking lot on Mount Elgon! And, thanks to all the ministry teams who visit here, business is quite good.
As I strained my little bit of Swahili visiting with the neighbor, I saw the old gray ghost pull into the yard. I don't know what year this old Toyota van is and Richard doesn't have a clue how many times the odometer has turned over. You cannot lay your hand anywhere on the exterior without touching a dent. One side has to be entered NASCAR style. But, it starts every time and it is allwheel drive. It is the rescue vehicle that is sent when the Cruiser gets stuck! It is worse than ugly. If image is everything, no—make that anything, then today, we've got nothing!
The familiar sound of Kenyan worship welcomes us as the last cow is shooed off our pathway. As
we enter the gate, there it is. The conference center. All exterior construction is completed on all
three buildings—conference center, dormitories, and the new dining hall.
A quick tour of the new dining hall almost required my hanky. The allergies on Mount Elgon always
seem to make my eyes water at inconvenient moments.
The new gas stove and oven are still wrapped in plastic as is the commercial vent-a-hood. There is
no resemblance to the three stones and open fire that has served the hundred or so guests daily for
the past several years. There are two large dry storage units inside the facility. And, a cold storage
unit to house the meat and perishables. We have never been able to serve meat here due to the
lack of refrigeration. It is always rice, beans, and boiled cabbage.
The landscape architect was waiting on Richard and me. As we walked the grounds, I could see the excitement in this young man's eyes. He does amazing work. In a few years, his schedule will be so busy that I doubt we will be able to get (or afford) him. He did the work at the guest house in Kitale. It is a garden of Eden makeover. He said he can do the same here at the conference center. Now, to find out which/who's account God has deposited this project money in?
I have taught for two consecutive days, six hours per day. Last night I was introduced to a local voice and throat treatment. The hot lemon juice and ginger topped off with a "shot" of honey did the trick. The pipes never gave out on me, nor did my favorite translator, Elijah. How can you not preach well when your translator is named Elijah?
This is the room that holds the greatest preaching freedom for me. I come prepared and studied, but what God says and does usually goes far beyond my notes and preparation. The past two days have proved that to be true again.
I spent two days teaching about sin. Not the general kind. The personal kind. The kind none of us, including this preacher, want to admit or deal with.
I told our leaders that God was against it (sin). And his favorite thing to see us do with sin, was to repent of it.
Over the past two days, God has given His gift repentance regularly and in large doses. No one enjoys this type of preaching, not even a "mean old prophet" like me.
But, I followed the rule that has served me and my hearers well for over 40 years now. I simply
preach to myself and let everyone else watch and listen.
We made the trip the second day in the repaired LandCruiser. I really don't think we needed the four-wheel drive, but I got out and locked the hubs in just to get a little muddy. I rained on us all the way down the mountain today. It didn't matter. I had said everything God told me to say. The last prayer had been prayed. The last greeting had been sent back with me to the U.S.
In small huts and mud homes dotting the mountainside tonight, preachers are pulling off their muddy rubber boots, shedding their wet clothes, and easing a bit closer to their tiny fire (it's 57 degrees tonight). They are thinking about all God said and did. So am I.
A last dinner tonight with Richard and Hellen before making the drive to Eldoret in the morning for a short flight back to Nairobi. Pastor Harrison (Tasia/Nairobi) will join me Thursday for the flight to Lodwar and the desert. He has never been to the desert. Harrison is easily the best preacher God has given us in Kenya. I can't wait for him to translate for me to the Turkana people.
This God adventure still has several chapters left to write.
Thanks for sending me. Thanks for keeping me going with your prayers.
Your prayers = my fuel.
PRAYER NEED: Just as I was typing the last few paragraphs of this journal, my text notification went off. It was Teresa. Her older sister is in the hospital in Memphis. Pneumonia in one lung, blood clots in the other. They believe it is treatable, but this will really weigh heavy on Teresa. She and Judy (her sister) are joined at the hip. Judy just lost her husband recently. Age and sickness seldom bring good news. They certainly did not today.