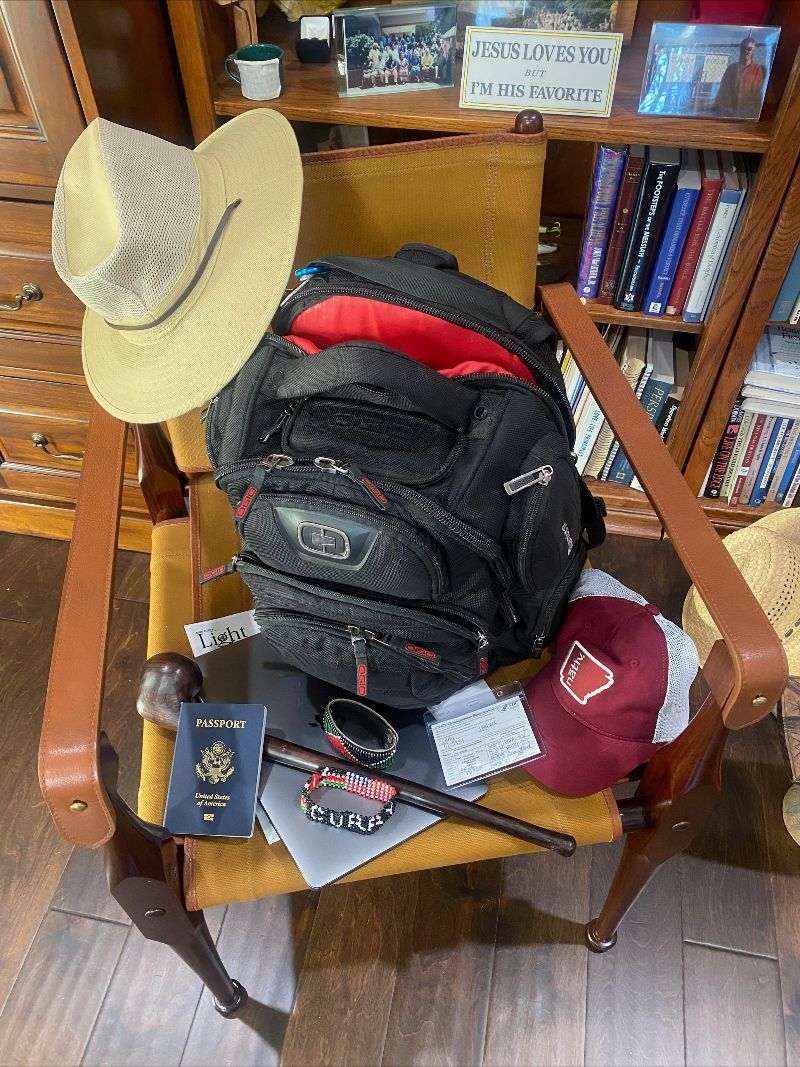 Kenya Journal 1 February 2023
Gone!
The truck started, the windshield thawed, and not so much as the slip of a tire on the icy trip to the airport.
As I finish my coffee the Delta board reads "on-time". Delta has lied to me before, but I am trusting their prophetic gifting this morning!
Attached is the first read of the Kenya journals.
I am still 30 hours, 10,000 miles, and few flight connections away from my assignment. I am praying I don't miss any assignments on my way to what I think is the main assignment.
Enjoy the read. You prayed me to the airport and this storm window of a few hours. I'll never believe anything else!
I switched the 4:15 A.M. alarm off at 3:45. My mind tells my body that it is enough. Time to get up and enjoy that last, long, endless hot water shower for a while. The I-drive maps showed slick and icy roads from Hot Springs to Little Rock. It took a bit for the ice to melt from the windshield of my truck. As I climbed into the cab, the heated seats and steering wheel made me smile.
God is so good to me. Years ago he brought a generous ministry partner into my life who provided Teresa and I new vehicles to drive. That, after years of itinerant ministry where vehicle shopping began with units with 100,000 miles or more. After my generous friend's death, others picked up his baton of
provision. You can't do itinerant ministry if you can't get to the ministry field. God is extravagant in
His provision for us.
I pressed the button on the dashboard that said Auto 4-Wheel, dropped the shifter into drive and watched home disappear in the rear view mirror. For 40+ years now I have watched home disappear in the mirror. I am always ready to get to the "work of the ministry." And then, I am always ready to get home.
As I crossed one icy bridge after another, not a single slip of the tire. As I write, I am sipping a cup of coffee in the warmth of an almost deserted airport. The Delta marquis reads onetime beside my flight number. May it be so!
The only dread of international ministry is the flight to get there. I thought of my "missionary pilgrimage" through the icy roads this morning. I heard a faint laugh in my mind. I believe it was the
laughter of those who have gone before me…by boat, by train, by camel, by foot. I still like the fact
that God trusts me with yet another God-adventure. My Bible reminds me ministry is not a competition. My flesh? Well, I do struggle with performance and a competitivespirit (among other fallen man faults.
Best case scenario puts me in Nairobi in about 30 hours.
We will see. The words of my dear friend Phil Newberry echo in my ears, "blessed are the flexible, for they shall not be bent out of shape."
I planned to wait until the cabin door on my first flight leg closed to send this journal. But, my phone is blowing up from those of your praying me to Kenya. So, by faith, I'm going to press send in a moment. I can always write a revised report if needed. If you don't hear from me for a day or so, know that I am somewhere over the great Atlantic pond or making my way down the Eastern coast of Africa to Kenya.

I am going with a full heart, and faith buoyed by your prayers and generosity. Yesterday, it got to the
place where Teresa would just begin laughing when I told her of yet another last minute gift sent for
this trip. One partner financed the humanitarian aid of food and water we will dispense in the desert
region of Lodwar. Another sent money to buy new clothes for the Kenyan pastors and wives I will
be ministering with. And the last gift came last night from a faithful church and pastor who just said,
we wanted to weigh down your pockets a bit. I assured them I would return with those pockets
empty.
I plan to finish in 15 days the way I have finished the past 40+ years…empty. No sermons left to preach, no prayer left unplayed, no encouragement withheld, no rebuke avoided, and no money left in my hands.
THANK YOU for allowing me to continue to be God's delivery boy.
I LOVE THIS JOB!
By, grace, your brother,
Mike Curry
Eph. 6:19-20